This firm used clamps to make desks, but as far as can be determined, did not sell them. They either made their own or commissioned others to make them.

The clamp is typical of many bar clamps, with these components:
A bar with semi-circular notches underneath, and a pin to keep the movable block from falling off the end;
A movable block held by an iron stirrup that engages the notches;
A fixed block with two holes;
A single spindle with ferrule and central pin.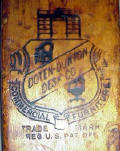 The mark includes the maker's name, and pictures of the products: two chairs (one mobile, one not), and a sanitary base desk.
It is apparently branded (thermographed) into the bar without the use of ink or paint.